That Red House Soapberry Recipes
Laundry detergent


Soapberries are most commonly used as laundry detergent, and the process could not be easier!

Simply add the equivalent of 5 whole shells to the small wash bag provided, and throw in the wash with your clothes!
Handy hint - The saponins are released from the berries more effectively in hot water. For a faster release, use a warm wash setting, or soak your small bag of soapberries in hot water for 5 minutes, before throwing them in the washing machine to do their job!


SOAPBERRY LIQUID
Soapberry liquid provides the base for all the recipes on this page.
Add approx 10 whole shells (or equivalent) per litre of water and boil for 15-20 minutes.
Use the back of a large spoon to gently press the soft berries to squeeze out extra saponins. Be sure not to break them.
Strain the cooled liquid through a cloth (the small cotton bag provided is perfect, or an old sock/stocking is fine too) so the sediment does not clog up your spray bottle.
To extend the life of your liquid in all its different applications, we recommend adding citric acid to the hot liquid after boiling and straining the soapberries. Add 1 tsp citric acid per 500ml liquid and stir until dissolved. Because the soapberries are a natural product, the liquid will need to be preserved, or it will spoil over time. Citric acid is a natural preservative which is edible and available at all supermarkets in the baking section. We recommend making enough to liquid to last you no more than 4 weeks. But hey... making all of your own organic cleaning products once a month is dead easy, and better for you and the environment. Just think of all the chemicals you will be eliminating from your life! Brilliant!
Hint: storing your Soapberry liquid in the fridge will significantly increase its lifespan!
ORGANIC SHAVING CREAM & MOISTURISING BABY WASH? YEP, SOAPBERRIES CAN DO THAT TOO!
One recipe, multiple uses! Waste-free living at it's best!

Method:


Strain your boiled 'mother broth' soapberry liquid (see above for recipe).
Add 2-4 tsp of guar gum per 500ml of soapberry liquid. The viscosity of the liquid is a personal choice, so experiment with what works best and add more if needed.
Mix with a stick blender.
Drizzle olive oil (or coconut oil) into the mixture. 1tbs of oil per 100ml of the thickened shampoo liquid.
Add a few drops of one of Essential oils prior to blending.
Using a blender to mix the oil and liquid together to form an emulsified cream. The cream will be soft and suitable for shaving and will be a perfect moisturising baby wash for delicate newborn skin.
Use as BABY WASH & SHAVING CREAM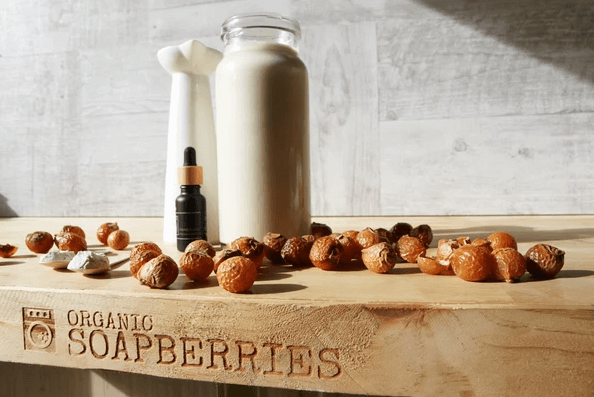 100% NATURAL STAINLESS STEEL & GLASS CLEANER

That Red House Soapberries are amazing in the washing machine, in the kitchen, in the shower and hell, if we could find a use for them, we know they'd kick arse in the bedroom too! These little balls of wonder will never cease to amaze us with their variety of talents.

We are adding to their list of superpowers – 100% natural squeaky clean streak-free stainless steel and glass cleaner! It is beyond simple to make and will leave you with a gorgeous reflective streak-free shine.

To whip up this concoction, firstly you will need the Soapberry Liquid. Recipe for this is at the top of the page.

Method:

Mix together:
2/3 soapberry liquid
1/3 vinegar
A few drops of eucalyptus oil in a spray bottle.

Voila!! Seriously, THAT IS IT!
Chemical free! 100% natural! Get on it!
---